The ORAC Storm – How ORAC 5.0 Has Changed Everything by David Bell is a new ebook available exclusively at http://adampaulgreen.com.
Download: The ORAC Storm
On May 16, 2012, the Agricultural Research Service ("ARS") of the U.S. Department of Agriculture ("USDA") removed the ORAC database from its website without a full explanation of why they did so. This appeared, to certain skeptics, to be a major change in direction for the department and its main research arm which had actually contributed to the development and widespread use of ORAC for a decade.
Furthermore, the Agricultural Research Service had even maintained a database that was considered to be the central repository of reliable ORAC information.
This unexpected decision by the Agricultural Research Service had an immediate and powerful effect on the nutrition industry. To make matters worse, main stream media outlets mistakenly reported that ORAC was now meaningless. These "half-truth" reports confused nutritional companies across the country. Those who once touted the effectiveness of ORAC, now wondered what to do and how they would quantify their health products nutritional-values moving forward. So, what really happened?
My name is David Bell. I am a Wharton-educated nutritional products expert. My company, Bell Advisory Services (New Bedford, MA), provides critical research findings to food and nutrition industry clients across the globe. Bell Advisory is recognized as an authority on ORAC and antioxidants (aka: AOX).
The purpose of this online white paper is to provide the facts regarding:
1 – The Truth About ORAC
2 – Why Antioxidants are Vital
3 – ORAC 5.0 – the New Generation
4 – The Future of AOX (i.e. Antioxidants)
Download the white paper for free: The ORAC Storm – How ORAC 5.0 Has Changed Everything by David Bell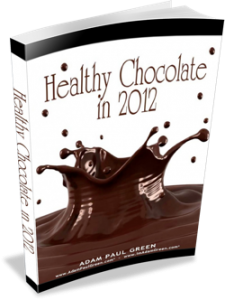 Don't forget to take a look at my Healthy Chocolate White Paper for more information about Healthy Chocolate!