Peter Langelaar Get's Caught In the Act of Stealing Web Content |
Choconature Distributor Thievery | Langelaar Fraud | Langelaar Scam
Xocai Preferred Over Choconat by 90% in Blind Taste Test.
So, after asking Peter Langelaar repeatedly to stop stealing my blog content and him refusing to remove it, I decided to send Peter Langelaar a clearer, more visible message:
Stealing isn't OK, Peter — Even Choconature (ChocoNat) likes our Xocai Product better!
(see images below)
I own the content shown in the screen shots below… before and after pictures:
The images below show the content Peter Langelaar stole from me, and because I own that content, I can change the images and links to those images anytime (like I did).  Now, ole Peter Langelaar is pretty predictable, so I'm looking forward to his explanation on how I stole my own content from him.  Cant wait to hear his explanation and complaints that I somehow hacked into his blog and messed with his content (which he stole from me) = same old lies Peter Langelaar.  Don't steal from me = and you won't get caught stealing.
www.mxicorp.com
adam@adampaulgreen.com
Example #1: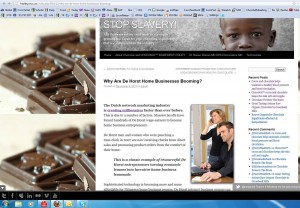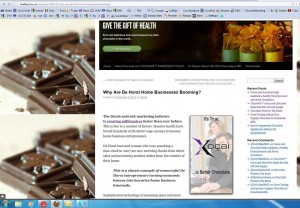 Hey guys, this Peter Langelaar guy has a real burr in his saddle for me.
Funny how life is sometimes — he really, really must like me, I guess…
Example #2:


Example #3:


+Anyway, I'll take the "high-road" here and give you just the facts.
I 've discovered a couple of interesting thing this week…
(1) Pete was stealing MY blog content (that I paid for) and giving it to a competitor of mine. Reason? He was using the blog content for his own profit and unauthorized use — so naturally, I cut him off. AND, he continues to find ways to steal and copy my Copyright blog content. So, I'll continue to shut him down. ~Koo-koo.
(2) Pete claims I stole his blog ("hacked it") & then shut it down — but the funny thing is that I own the URL that he's complaining about — and have since 2009 (GoodChocolateBlog.com) — so how can I "hack myself" and "steal" from myself? ~Nuts.
(3) Pete wants to blame me for getting his Xocai Netherlands YouTube channel terminated — however, he was using Sound Concepts video content illegally (without their permission) and unlawfully manipulating that content for his benefit. THEY shut down his YT Channel, not me. Yes, Pete, I have a sense of humor.
~"Hasta la Vista, Peeter" (said like Arnold).
(4) Consider Pete's motivations — he was kicked out of our company for breaking the law/rules, and then angrily joined a competitor. He's still obsessed with our business partners (because he messed up & feels he's better than them). He wants to damage our company, Xocai lovers & their reputations … ON PURPOSE.
Duh, of course I'm going to push back on a bully like you.
~Durazno!
(5) The last time I checked, I found life to be competitive. If you can't compete, or you've bitten off more than you can chew, either call a truce or just bow out.
~"Life's like a box of chocolates;" sometimes you have to spit out the bad ones.
(6) The one thing I agree with Pete on, what goes around — does come around.
~Good karma to you!
(7) For future reference, yes, I personally am to blame for the bad weather, the poor economy, the Detroit Lions season, all political strife, cavities, the devaluation of the Euro, The BCS System, excessive traffic jams, diarrhea, cramps and the high price of gas —
along with ALL of Peter Langelaars other problems. My sincere apologies.