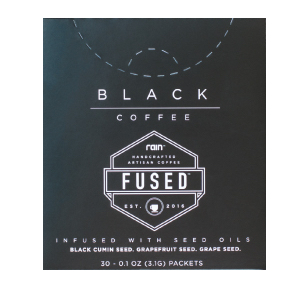 For many years, coffee has been just coffee. Nothing more, nothing less. But, in recent years, an idea was conceived that coffee could be enhanced, or become something better. Scientists began infusing coffee with different flavors in order to make it taste even better. While these infusions enhanced the overall flavor of coffee, they did little to enhance the overall nutritional value of each cup. Attempts were then made to increase the already inherent benefits of coffee. Some of these attempts proved to be beneficial, but we wanted to create something even better: to brew the world's most nutrient-rich cup of coffee, and to elevate the world's vision of what coffee should be. Again, we found that seeds would provide the answer to our question and allow us to turn our idea into a reality.
Why FUSED?  CLICK HERE for the Rain Fused Coffee Video Tutorial
Rain International has found a way to take a delicious cup of coffee and infuse each bean with our proprietary seed blend. We are the first to have made this kind of breakthrough. It allows us to take an already healthful cup of coffee and turn it into an enhanced, super­source of nutrition.  Coffee is one of society's staples. A coffee shop dots every corner, coffee mugs steam on kitchen tables as we prepare for the day, and it's delicious, warm aroma–mixed with its deep, familiar flavor–greets us every morning like a loyal friend. Coffee is so full of simplistic nostalgia that it has largely been left untouched.
Let us introduce you to the first cup of gourmet coffee that tastes as good as it is healthy. This coffee was born from the idea that your morning cup of comfort shouldn't just be good for your soul, but good for your body as well. Each bean has been artisan-grown, handpicked, and then infused with some of the world's healthiest seed oils and extracts. Our infusion process is patent pending and the first of its kind. A beautiful union has been created: one part coffee, one part seed blend. A union that will make you feel feelings of satisfaction and warmth that you've never felt before.  WELCOME TO THE SEED REVOLUTION.
CLICK HERE for the Rain Fused Coffee Product Explanation
TO CREATE A WORLD-CLASS PRODUCT, YOU NEED A WORLD-CLASS FARM THAT PROVIDES YOU WITH INGREDIENTS OF UNSURPASSED QUALITY. WHEN OUR IDEA FOR THIS GOURMET, SEED-INFUSED COFFEE WAS CONCEIVED, WE UNDERSTOOD THAT OUR FIRST AND MOST IMPORTANT RESPONSIBILITY WOULD BE TO FIND THE BEST FARMS WITH THE BEST COFFEE BEANS AVAILABLE. WE SEARCHED, RESEARCHED, AND THEN CAREFULLY HANDPICKED EACH FARM BASED ON THEIR LEVEL OF QUALITY, CARE, AND STANDARD OF FLAVOR. IT WAS ALSO IMPORTANT FOR US TO FIND FARMS THAT WERE ALL-NATURAL AND QUALITY CERTIFIED. EACH ARTISAN FARM WE HAVE SELECTED MEETS OUR HIGH STANDARDS AND PROVIDES US WITH WORLD-CLASS COFFEE BEANS, A PERFECT PLACE TO HOUSE OUR POTENT SEED OIL BLEND.
–Shop Rain Retail
–Become a Preferred Rain Customer
–Join My Rain Team
–Visit my Official Rain Site
Adam Green
801-809-7766