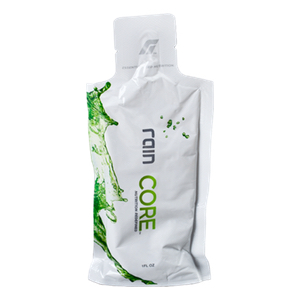 The healthier a person is, the less money they spend on medical bills. Ushered in after Soul – Core is the second product to be introduced by Rain International. It contains the nutrition of high-quality greens and dense seed blends, all in a 1-ounce packet. Core has gained a clinical reputation for improving health functions and works together with Soul to provide what your body needs.  ANTI-INFLAMMATORY ANTIOXIDANTS: Seed oils are possibly the most concentrated source of powerful antioxidants, which fight inflammation and damaging free-radicals. Dangerous free-radicals are produced whenever oxidation occurs due to exposure from pesticides on food, tobacco smoke, fumes and pollutants in the air, etc. Each of us experiences these harmful chemicals every day, and balancing resulting radicals with antioxidants can help to prevent a multitude of unhealthy conditions.
Why CORE?  CLICK HERE for a Rain Core Video Tutorial
Rain International products are manufactured in a top-of-the-line facility, using only non-GMO ingredients. Our unique cold-press process leaves no harsh chemical waste; it does not emit harmful smoke into the atmosphere. The lack of harsh chemical and high heat proves beneficial to the seeds, keeping nutrition intact with mild processing.  We are unique because we have control of our own manufacturing process. We ensure that every packet is of the highest quality and we stand behind each pouch. With both NSF (The Public Health and Safety Organization) and INFANCA certification, you can trust our products to be of the highest quality. In process testing and inspection is performed to ensure cGMP standards are met.  CORE = CLEANSE.  SOUL = RESTORE.  FORM = BUILD.
Scientists worldwide have studied and continue to unearth benefits of the ingredients found in Rain Core. Just one of the many ingredients in Rain Core is so beneficial that some companies base their entire business on one single ingredient. Rain has found many nutrients combined are more powerful than one. Due to synergy, greater results are being discovered and achieved.  HEART-HEALTHY FATS: Seeds are full of healthful mono- and polyunsaturated fats. But other fats, such as saturated and trans fats (those found in meats, dairy, fried and processed foods) can trigger inflammation. According to research, diets high in these unhealthy fats can lead to a number of diseases. Choosing to eat healthy fats instead can lower cholesterol and decrease inflammation.
CLICK HERE for a Core Product Explanation
Rain Core is packed with nutrients from notable seeds and greens. Within Rain Core are: chlorophyllin, aloe vera, spirulina, wheat grass, cranberry seed, milk thistle seed, kale, black cumin seed, chlorella and dandelion. Each of these ingredients contributes to good health and has a powerful effect on your body's organs. Spirulina promotes brain function while kale assists in fat digestion and dandelion benefits skin health for improved overall wellness. Aloe Vera helps with both vitamins and detoxification.
–Shop Rain Retail
–Become a Preferred Rain Customer
–Join My Rain Team
–Visit my Official Rain Site
Adam Green
801-809-7766