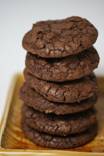 Just when you thought you'd seen it all from MXI Corp and Xocai the Healthy Dark Chocolate Confectioners, they go and surprise us in a major way again!  How great will it be to have a meal replacement protein cookie to help us all stay on track with our healthy chocolate eating habits?  I'll answer that:  AWESOME!   The perfect Xocai combination of "super foods", "super fruits", whey protein isolate, flavanoids and taste – taste especially!
Size:                       57 grams
Protein:                 Whey Isolate (16 grams)
Sweetener:             Xylitol
Chocolate:             Belgian (Antioxidant Rich, Proprietary Blended & Cold Pressed)
Taste:                    Yum!
Here is the "preliminary ingredient deck" for the NEW Xocai Protein Meal Replacement Cookie: