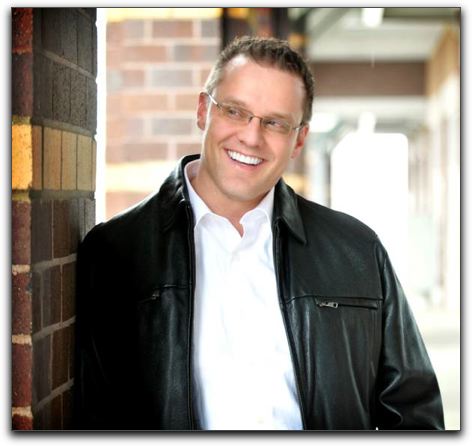 801-809-7766
During his formative years, Adam Paul Green worked for his entrepreneurial father learning managerial skills, venture capitalism, sales and negotiation techniques in addition to international business finance, investing and entrepreneurialism.
Mr. Green is an entrepreneur. Not only has Adam had the privilege of working with and for Fortune 100 companies, he's also learned from the best international business minds in the world; which is a distinct honor for him. Since 2000, Mr. Green has been involved in the Health and Wellness Industry as a successful Entrepreneur, Product Developer and Manufacturer of Anti-Aging Skin Care and Juice Products (www.AdamPaulGreen.com). During his career, Adam has helped the most recognizable retail businesses and the dozens of the top 200 Network Marketing companies obtain incredible success through innovative Product Development and Customized Manufacturing.
Adam's lifetime sales are over $417,000,000.
Adam takes action. In April of 2005, Adam and his wife Melannie met the Brooks family, discovered a chocolate that was healthy, caught the business vision and joined the company as one of the founders of the revolution! In the space of just a few years, they have seen the growth of this fantastic company from its "grass roots" infancy to the multi-million-dollar powerhouse it is today. The Green's can only describe it as, "Unbelievable."
– Adam's lifetime sales with the 'Healthy Chocolate Company' are over $110,000,000.
– Lifetime Income with the 'Healthy Chocolate Company' is over $5,000,000+.
– Team Built:  127,000+ in 42 Countries.
Although neither Adam nor Melannie had been a distributor for another Network Marketing Company that did not stop them from believing that they would succeed; they took immediate action! (www.MyChocolatePod.com) They are one of the original 11 distributors to hear the very first Xocai presentation and are ruthlessly committed to making sure everyone has a positive experience with Xocai.
Melannie wants everyone to know, "If we can do it, so can you. Get committed. Get going!"
Adam is a leader. Adam and Melannie were the 2nd distributorship to reach the level of "Xocai Ambassador" and are the 2nd highest money earners in company history.
Just this year, Adam and Melannie became Xocai's 2nd highest monthly income earners and they are proud of their team for helping them reach this massive achievement.
You can find Adam supporting and training team members every day at:
www.ImAdamGreen.com or simply reach out to him by clicking here: www.AdamPaulGreen.com/Partnership.
"I am a product of perseverance. I used to fail and fail and fail and I did not understand why. I finally cracked the "business-success-code" and started pulling in a large income. After every one of my business failures, I make critical refinements and timely adjustments; it's the key! I could, if I wanted to, never work a job again. However, it is my hope that I will be able to help you achieve the same financial freedom and time independence that I enjoy every day."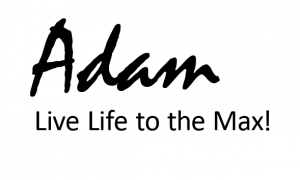 Read what others have said about me in these Letters of Recommendation: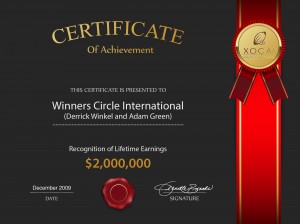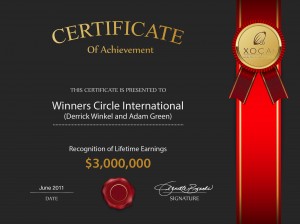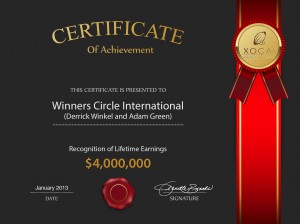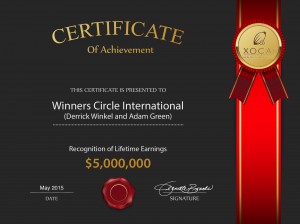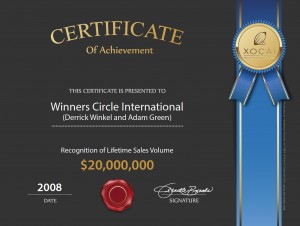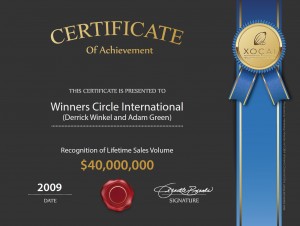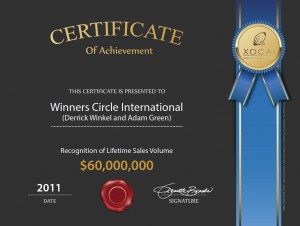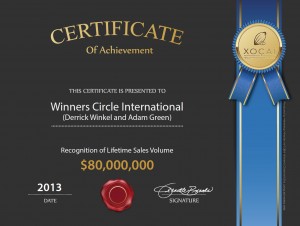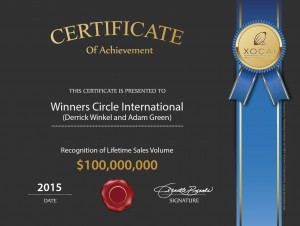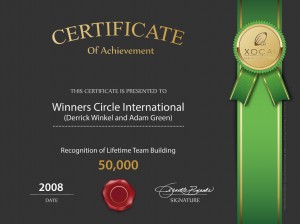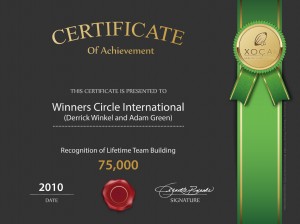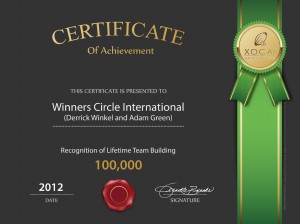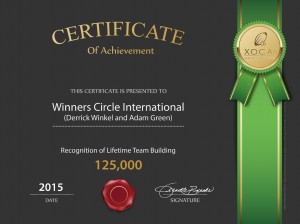 In The News:
It is my pleasure to introduce you to entrepreneur, Adam Green. Mr. Green is a dedicated, hard working individual who is interested in helping others improve their financial position through disciplined business training. Adam has a real knack of finding a creative solutions. Furthermore, Adam's business building strategies have literally propelled tens of thousands of Network Marketing professionals to the next level of success.
What sets Adam apart from the pretenders? Not only can he show you "how to do it," he is one of the rare individuals who actually has done it for himself (i.e. built a team of over 50,000 worldwide distributors and earned commissions over $2,000,000 in his first 5 years in MLM). Every year, without fail, Mr. Green is honored and recognized as an industry innovator for three distinct reasons:
#1 – Adam's decision to genuinely invest in people,
#2 – His ability to attract the most experienced people in the industry and
#3 – His proven track record of producing the highest caliber Professional Networkers in the industry.
Now, Mr. Green is neither the flashiest nor the most publicized, he is just the most consistent in the industry. Today Adam is known internationally as one of the top producing Network Marketers and industry trainers. More importantly to Adam is the fact that he has a reputation as a person of honor and integrity in this competitive landscape. Adam has enjoyed the distinct privilege of being featured and/or promoted in the following publications:
[nggallery id=2]
Testimonials:
"Adam is one of the most informative sources of industry news for me. His attention to detail and established communication channels are the best in the industry. I work in this Direct Sales Industry on a daily basis; I know the difference."
-Steve L., RetroTech Blue.

"In our competitive, emerging global economy, Adam's MLM experience is indispensable."
-Paul W., President, Strategic Marketing Solutions (SMS).

"Adam Green is one of the great leaders of the industry. One of the most giving and unselfish leaders I have ever met. Definitely one of the leaders you should align yourself with and learn from in order to have success."
-J.J. Oswald, Owner, Sound Concepts

"Adam Green is an essential business partner for us."
-Kerry B., Founder, Ocean Grown International (Natures Sunshine/Synergy International).

"With knowledge and experience in the changing federal regulations, new manufacturing technologies, improved raw materials and a more competitive private-sector, I find Adam to be a comprehensive source of current information surrounding Network Marketing trends."
-Andrew G., President, MindFruit Inc.

"Adam Green is timely and professional. He is focused where he need to be; on MLM team growth!"
-Shellie W., Founder, B.E. Foundation.

Adam Green is the definition of success. Adam has the ability to connect with people and mentor us to success through his passion, support, and proven techniques. Follow his lead and achieve success!
-Troie Battles, Managing Partner, Battles LLC

"This note is in reference to the services provided by Adam Green. Over the last several years, I have worked closely with Adam on several ideas. He has been very helpful in developing these projects and has completed the work in a timely manner. Adam has supportive ideas and has guided me in the right directions for my Direct Selling Business. He also knows the regulations and has saved me from multiple problems. I high recommended Adam and I feel he will provide you with excellent services."
-Dr. Jukes, MD, DPA.

"I depend on Mr. Green for current, reliable and insightful information about the Direct Selling industry. He's my favorite source of industry insider info; he has never let me down."
-D. Arthur Smith, Managing Partner, BL Products, Ltd.

"Hi Adam, Love your website. Not only does it look professional, but it has the solid content networkers need. Awesome information."
-Tom "Big Al" Schreiter, www.FortuneNow.com

"Adam provides results, as promised; he's an excellent professional networker!"
-Eric O., Operations Manager, Alliance Networks.

"I literally go through and toss out information about once a month. I am amazed at all of the material that I save from Adam Green. He has the right perspective on Network Marketing."
-Cathy L., President, True Wealth Enterprises.

"Adam provides good information on new MLM business technologies and explains those cutting edge technologies in a way that anyone can understand; Thanks, Adam!"
-M. Hutchinson, Executive VP of Marketing, Associated CMLF.

"It has been my great pleasure and professional experience to have had opportunities over the past 3 years to work with Adam Green. Over the years, a number of my associates have worked with Adam and we have always found the experience to be very beneficial. I also know Adam to be a great partner with a fantastic understanding of Direct Sales and interesting MLM capabilities. I recommend Adam."
-Kevin Gull, Owner, K&W Marketing Consultants.

"I have found Adam's Network Marketing counsel to be exceptionally useful. He offers reliable and timely advice on the intricacies of MLM from a business entrepreneur's point of view."
-A. Gifford, Operations Manager, Wasatch Contract Manufacturing.

"Adam Green is a great resource for cutting-edge, industry trends in Network Marketing."
-Steve N., Associate, National Directors of Manufacturing.

"I would like to congratulate Adam on the way he conducts his business. Many times, people like me are hesitant to openly share our proprietary information. All too often the facts are not understood accurately. Many times insider knowledge is pushed aside without merit. And, often times, vital points of certain critical conversations are taken out of context. Adam accurate understanding of MLM is much appreciated; it goes a long way toward building credibility. I have enjoyed being affiliated with Adam. Adam provides timely and important information about MLM issues affecting all of us in this industry."
-Dave L., Founder and Chief Executive Director, Mollire.

"Adam is my first source for mistakes to avoid regarding the evolutions taking place in MLM."
-Travis F., Director, Natures Technologies.

"Congratulations on your Direct Selling success! Your positive approach always works for me."
-L. Jacobs, Director of Purchasing, LJ Enterprises.

"Without fail Adam will advise me of some critical perspective which gets me thinking in new ways and understanding Network Marketing at a deeper level; which I appreciate."
-Lynn S., Chief Marketing Officer (CMO), Naturio.

"Adam is a Network Marketing insider who provides timely insights for people in need."
– Alexandra B., PR Director, Ocean Grown.

"Adam achieves results that other people said couldn't be done. His work is of the highest level."
-Melannie G., Vice President, Cortez International.

"You got it right with Adam! He is clear, accurate and comprehensible to everyone involved at all levels. I am very pleased at the way my Direct Selling Business turned out."
-Chuck G., Owner, World Sanitation Corporation.

"Working with Adam has been great. As a first timer to MLM, I really needed someone to lean on for advice and direction. Adam gets stuff done."
-Rebecca G., Senior Buyer, Medical Supplies, Inc.

"The attention to detail Adam possess with his Network marketing Business is very impressive."
-Tom A., Chief Executive, Functional Beverages Inc.
Notable Achievements:
2005 Founding Distributor
2005 Top 10 Income Earner
2006 Top 10 Income Earner
2007 International Team Lead (Japan/Australia/Canada)
2007 Top 3 Income Earner
2008 Most Valuable Player (MVP)(L2E)
2008 Second Xocai Ambassador
2008 Million Dollar Earner
2008 International Team Lead (UK/EU)
2008 Top 3 Income Earner
2009 Innovator of the Year (L2E)
2009 International Team Lead (Sweden/Denmark/Ireland/South Africa/New Zealand)
2009 EU International Team Lead (Hungary/Belgium/Hong Kong/Netherlands)
2009 Top 3 Income Earner
2010 Multi-Million Dollar Earner
More about Adam
Overview
[audio:7_APG_REB_VO.mp3]
Background
[audio:8_APG_REB_VO.mp3]
In The News
[audio:9_APG_REB_VO.mp3]
Adam and Xocai
[audio:10_APG_REB_VO.mp3]
MLM "A-Bomb"?
[audio:11_APG_REB_VO.mp3]
Present Meets Future
[audio:12_APG_REB_VO.mp3]